Statistical Analysis
Who Cheats More, Men or Women?
Statistics in the USA
Around 25.5% of men and 15.6 % of women in America are sexually connected with someone other than their spouse.
Relationships
Many people admit to cheating on their loved ones at least once in their lives.
Ethics
Approximately 74% of Americans believe that adultery is unethical.
Cheating Percentage
According to the findings of the General Social Survey, the male infidelity rate is higher than females. Approximately 20% of married men and 13% of married women are engaged in sexual activity with someone other than their spouse. Here are some points that show male and female cheating statistics.
Cheating Statistics by Race
The IFS study states a person's race has a significant impact on their faithfulness. 22% of black participants, 16% of white participants, and 13% of Hispanic participants acknowledged fornication. According to another poll, 80.6% of black Americans oppose any form of adultery. The majority of the participants in this study came via church attendance. Cheating on your husband, in their opinion, is an unforgiving attitude.
Cheating Before Marriage
According to a poll conducted by the National Institute of Health and Family Welfare, 17% of cohabiting males and 37.2% of dating men engage in sexual infidelity, compared to 8% of cohabiting women and 16.8% in dating relationships. Now, these statistics indicate the gap between unmarried males and females.
Religion/Beliefs
Religious people have been seen to cheat less than non-religious persons. It has been observed that people who regularly attend prayers are less inclined to cheat. It is believed that God assists people in choosing the correct path and keeps them away from being distracted.
Why does God allow cheating?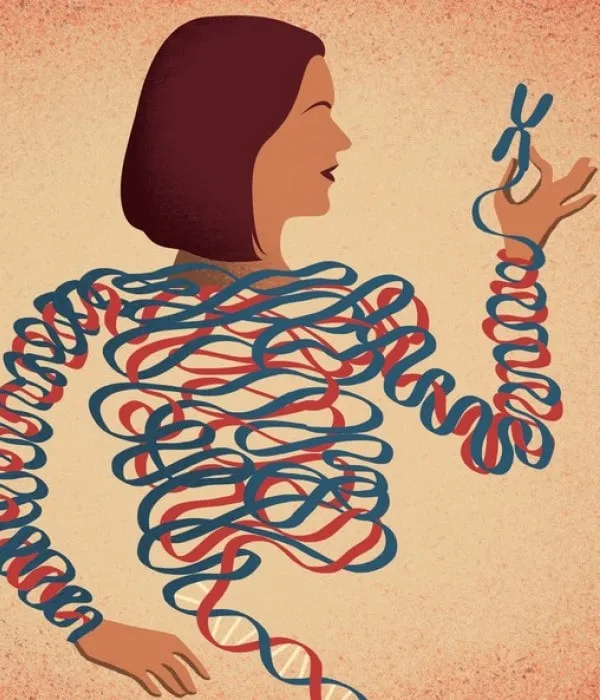 Genetically Predisposed
Robert Weiss, MSW and author, says that some people are genetically predisposed to the excitement gene. However, not all of them need to engage in such activities. When it comes to a tendency to sexual infidelity, other elements such as environment, willpower, and life experiences play a significant impact.
IQ and Cheating Rates
A man with a lower IQ may cheat on his wife. Satoshi Kanazawa of the London School of Economics and Political Science revealed this idea on evolution history. He believes a smarter man may cheat less on his other half. Sexual exclusivity is more important to highly intelligent people than to less intelligent people. He further said that there is no link between intellect and fidelity in the case of women since they are expected to remain faithful to their partners even in polygamous communities.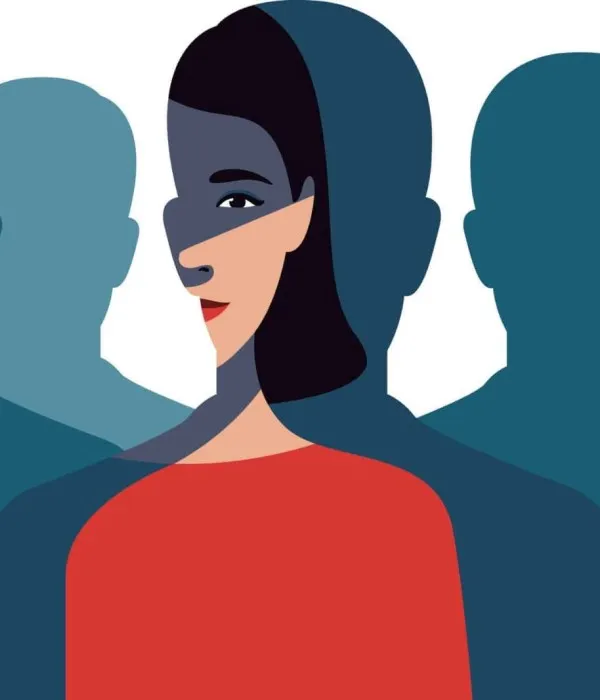 Cheating Statistics by Gender
According to a poll conducted for stats on cheating spouses by the National Opinion Research Center at the University of Chicago, infidelity cases are greater in males than in women, although there is currently a significant shift in gender trends. Women in their 20s and 30s have cheated more than women in their 50s and 60s. Men, on the other hand, show an entirely different pattern of behavior.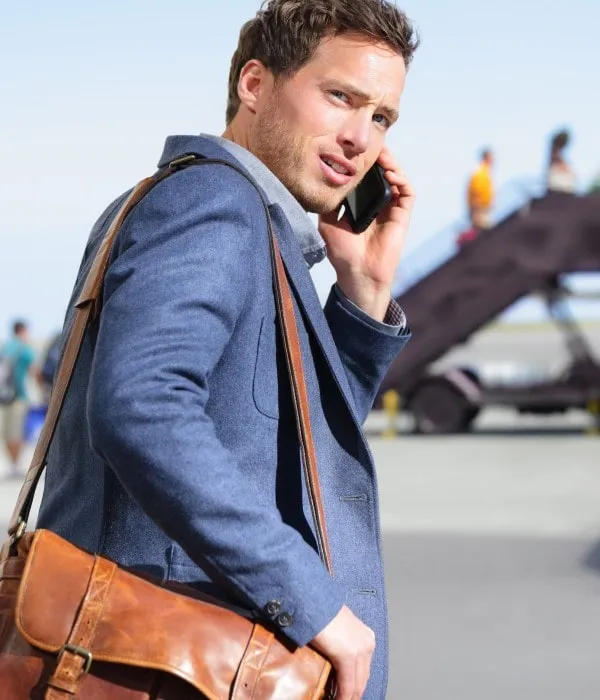 Business Trips
About 8000 people took part in a poll conducted by Gleeden. When on a business trip, 62% of men and 56.7% of women admitted to cheating on their spouses by having an affair with someone. 27.8% of women and 61% of men admit to having an affair with their coworkers.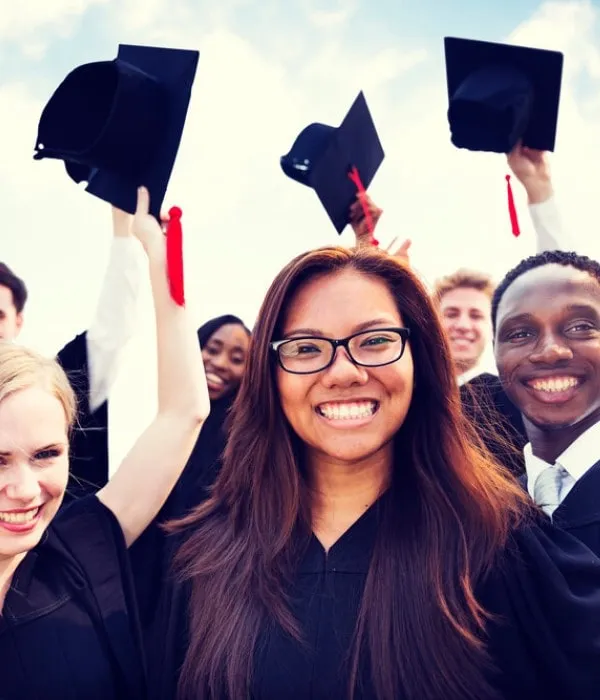 Education
One of the criteria that determine the predisposition to infidelity is your academic status. 18% of cheaters were enrolled in college, and 15.7% of cheaters graduated with a bachelor's degree. At the same time, 14.75% of cheaters were in high school.
One-Night-Stands
Cheating on one-night stands is very common. Couples want to keep an extramarital affair running for a limited time. If they are sexually attracted to each other, it will not last long. A study showed that just 10% of relationships last longer than six months. Almost 25% of all relationships last less than a week, and 64.8% of these relationships last less than six months.
Financial Factor
As per a study by the American Sociological Association, partners earning less are more prone to cheat. According to the research, 15% of jobless husbands cheat on their wives. Only 5% of housewives who depend on their husband's income cheat. In comparison, the statistics cheating ratio of working women and financially independent husbands is substantially lower.
Percentage of Cheating in Marriage
It's hard to quantify the actual percentage of married couples that cheat. According to different studies, married males cheat more frequently than married women. Approximately 15-20% of married couples cheat on each other. With the couple's age, this percentage rises.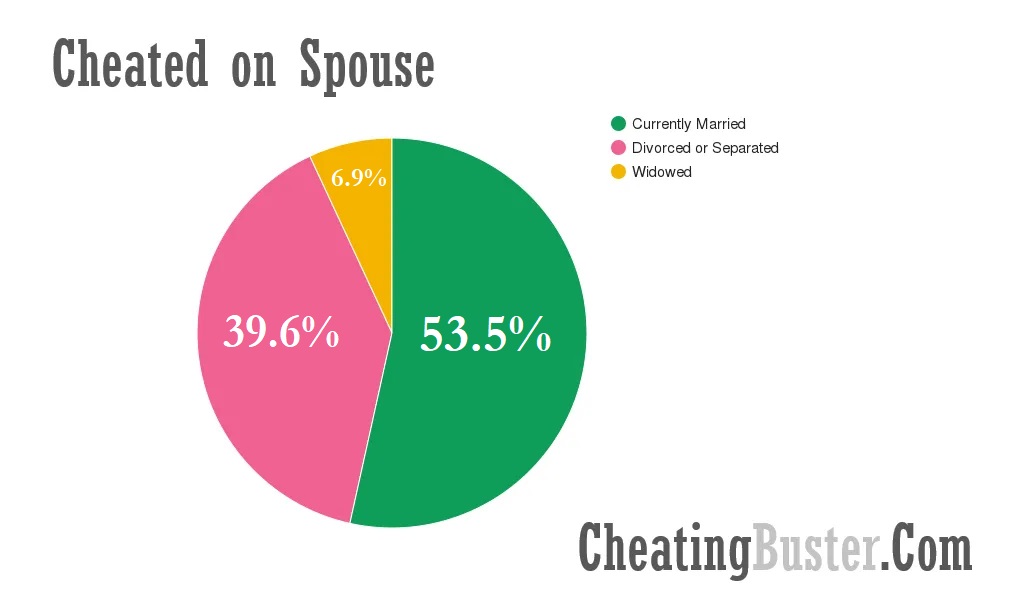 According to the study titled America's Generation Gap in Extramarital Affairs, 20% of elderly couples admitted to adultery at least once throughout their long marriage. Infidelity was also mentioned by 15% of middle-aged couples.
Statistics of Men Cheating
---
Research conducted by the Institute of Family Studies revealed that 20% of married men cheat on their wives. According to an online study conducted by TAD, men do not stop cheating after the first time. Adultery is most commonly committed between the ages of 70 and 75. Black men are more likely to cheat on their wives than Hispanic or white males. 25% of married men admit to having one-night stands. Married males between the ages of 45 and 85 feel sorry about their unfaithful activities.
Statistics of Women Cheating
---
According to the Institute of Family Studies, 13% of married women cheat on their partners. Married women between the ages of 20 and 35 feel guilty about adultery in their marriage. In general, women in their 60s are at their most adulterous. Compared to males, over 15% of women emotionally bonded to someone.
Cheating Divorce Statistics
One of the leading causes of divorce is adultery by married men or women. According to the National Institute of Health, infidelity is the primary reason for the breakup in 88% of relationships. Many of these couples are dealing with partners' infidelity.
The findings of American Psychological Association research show that infidelity is the cause of 20-35% of divorces in the United States. Only 43% of divorces are filed after only one incident of adultery. Even if they hear of their partner's infidelity, about 31% of couples do not separate.
A Gallup study showed that many couples divorced after discovering their better half is a cheater. In the majority of infidelity situations, the woman is the one who initiates the divorce. In general, partners under the age of 30 and over the age of 70 are less interested in divorce than those between the ages of 50 and 60.
Cheating in Different Generations
YouGov.com surveyed American people to observe adults cheating. The couples were either in committed or open relationships. The study's main goal was to see if these couples were sexually active with someone without their partner's consent.
According to the statistics, roughly 19% of respondents are romantically involved without their parent's consent, while 11.9% of individuals admitted to having intercourse. Furthermore, 17.2% of adults aged 18 to 40 reported having sexual relationships with someone other than their partners, and just 3% of those aged 65 and up had been sexually involved in an extramarital affair.
Which Professions Are the Most Likely to Cheat?
The Ashley Madison dating site also did polling to find out which profession cheats more.
The statistics show that women in the medical industry cheat at a higher rate than males, with 23% of women cheating over 5% of men. Apart from this, 9% of women and 8% of men were identified as cheaters in professions such as retail and hospitality. In the information technology sector, males cheat at a rate of 12% greater than women (8%). In the case of business founders, both have an 11%.
Homosexual and Bisexual Cheating Statistics
This is a matter on which you will disagree, yet it does occur. According to research published in the Evolutionary Psychology Journal, roughly 2.85% of unfaithful partners are bisexual and cheat in their same-sex relationships. 33% of males said they'd accept their wife cheating on them with the same sex. If the same thing happens to women, just 22% will tolerate their husband's relationship with another person of the same sex. Furthermore, 63% of women said they would accept their husband's relationship with a woman over a person of the same sex. 75.6 % of males, on the other hand, stated they would rather prefer their wives cheat with another woman than with a man.
How Many People Admit Infidelity?
According to the findings of a Michigan survey, 48% of respondents acknowledged having an affair with someone else. 53.2% of those who cheated on their partners were never caught out.
Furthermore, 49% confess their adultery to their partner within a week, 27% keep the cheating hidden for a month, and 24% take nearly six months to confess the infidelity.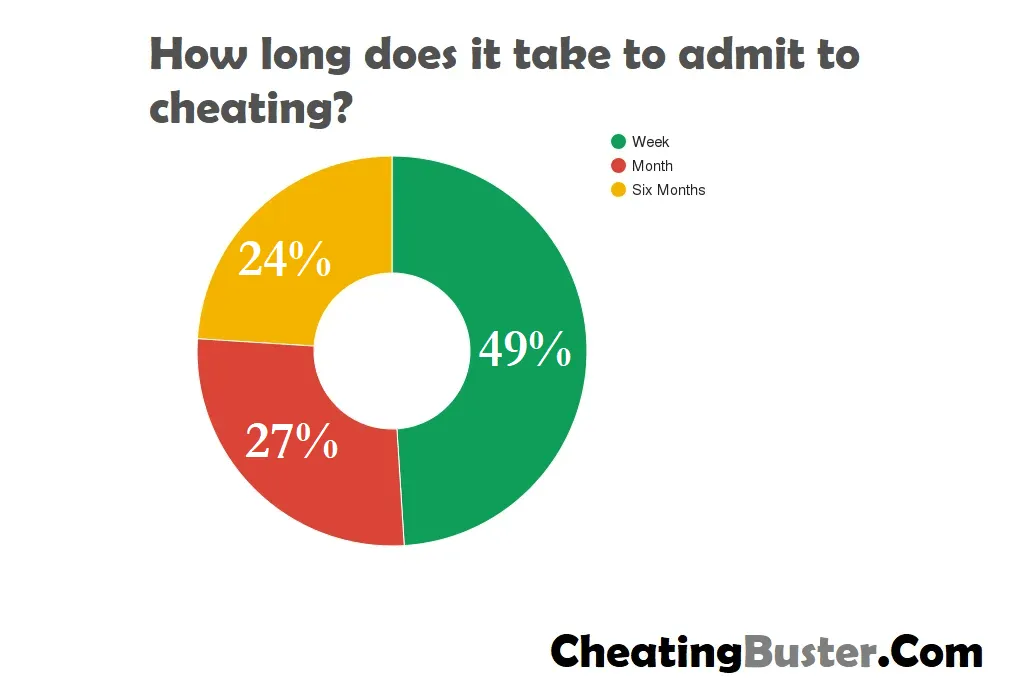 Approximately 55% of those who admit to adultery are divorced right away, while only 16% remain together.
Percentage of Relationships that Work After Cheating
The reaction and acceptance of both spouses have a huge impact on the future of relationships after an affair.
According to Briony Leo, head coach at Relish and a psychologist from Melbourne, only a genuinely honest dialogue in the couple is essential if partners want to heal their relationship. Around 34% of couples decided to stay together but finally broke up. In other circumstances, Leo noted, therapy or relationship coaching might be quite beneficial. Other concerns come as a result of psychological therapy, such as disinterest in a relationship, loneliness, libido mismatch, and so on. These concerns can be readily resolved after undergoing psychological counseling.
Although cheating on a partner is a terrible thing, Esther Perel, a famous therapist, claims that it may occasionally revitalize your relationship. You and your husband go on a new journey together. Only 15.4% of couples are content with their relationship. However, in certain circumstances, it causes significant emotional distress to the spouse, leading to a traumatic divorce.
So Who Cheats More, Men or Women?
Cheating is more common among males, especially older men. This isn't to say that women are completely innocent and never cheat on their partners. Men, on the other hand, have greater freedom than women, and they spend more time outside than any woman. Men are attracted to another person for sexual reasons, whilst women are drawn to another person for emotional reasons. When a man is sexually attracted to someone, he discards his prior lover and pursues the new one. However, because emotional attachment is more important to women than sexual attractiveness, they are less likely to cheat than males.
FAQ
What ages cheat more?
Infidelity is largely influenced by one's age. During the Middle Ages, both men and women cheated on their relationships. In men, the highest percentage of infidelity was seen between the ages of 50 and 59. The peak for women is between the ages of 48 and 56. Cheating is committed by around 18% of women in the 40-49 age bracket. Infidelity is still quite common among men as compared to women in the same age range, at 23-26%.
Is cheating more common today?
Yes, infidelity is more common due to a person's global exposure. People can cheat on their partners using a variety of online platforms. They can also meet at work, in college, during combined studies, in the gym, during business meetings, etc. Cheating is a simple affair for males since they are readily attracted sexually. Many additional factors, including the partner's ignorance, loneliness, and sexual mismatch, might encourage such behavior.
Does family history and background play a role in cheating?
Yes, family history or background may play a significant impact. In comparison to 13% of respondents who grew up with biological or adoptive parents, 18% of respondents who did not grow up with both of their parents cheated.
Are divorcees more likely to cheat?
According to a survey conducted by The Institute of Family Studies, over 40% of divorcees cheated on their new spouses. Men who cheated on their wives are more likely to remarry than women. About 76.8% of divorcees remained loyal, whereas 50.8% of cheating divorcees remarried.
Does online infidelity happen more than offline infidelity?
Cheating online is quite convenient. According to a survey, 2.8% of women and 7.65% of males engage in online infidelity. Men and women are being lured into infidelity by social media platforms and other dating services. Multiple infidelity cases may be possible using any social media app, such as Snapchat, Whatsapp, or Facebook. Almost 90-95 percent of men and women who started a new romance online cheated.