Social Media
Cheating Snapchat
---
A friendly social media connection is harmless, but when it goes out of scope, there is a strong possibility of cheating on behalf of your partner. Snapchat is a very interactive social media platform that easily invites cheating actions.
In this article, we'll cover some of the most important aspects of Snapchat and Cheating.
About Cheating on Snapchat
Snapchat is a social networking application for sharing photos and videos. Here, you may have a conversation with someone without leaving any trace. When your spouse is using the Snapchat app to connect romantically with other people, this is referred to as cheating on social media.
Cheating on your partner with Snapchat is simple since you don't have to erase or hide any of your messages. After a few seconds, it will be removed from the app and your partner will become a cheater.
Snapchat is now a developing trend and a reason for divorce, according to Andrew Newbury, a partner at Hall Brown Family Law. He also stated that Snapchat would soon become the most popular medium for cheating with its unrivaled but hazardous capability of disappearing photos and texts immediately after uploading.
Is Snapchat for Cheating Popular?
Cheaters often use Snapchat's disappearing messages and pictures to send suggestive content to their partners. Even though this activity is frowned upon, it's become increasingly popular. It's estimated that more than 9 million people in the US are using Snapchat for cheating on their significant other. This is a troubling trend, as it often leads to broken relationships and even more serious consequences. As a result, cheating on this app is pretty easy. Even if you check your partner's phone, you will have no idea if they are cheating on you.
Snapchat users aged 44 to 55 had increased by 34% over the previous year. The number has risen dramatically from 3.4 million to 4.7 million in only one year, according to technology analysis company eMarketer. In the following years, this figure might surpass 5.6 million. From prior years to this year, the number of Snapchat users aged 56 to 65 has risen by 38%.
Why is there such significant growth in this age group? What is it about Snapchat that has attracted the curiosity of the mature generation? First, the app is really easy to use, and second, no one can access your history because the app never saves a record of your snaps and chats.
How Can You Tell If Your Partner Is Cheating on Snapchat?
Checking their phone is the most usual response to this question. However, in the case of Snapchat, seeing their phone is pointless because all of the texts and chat discussions vanish within a few seconds.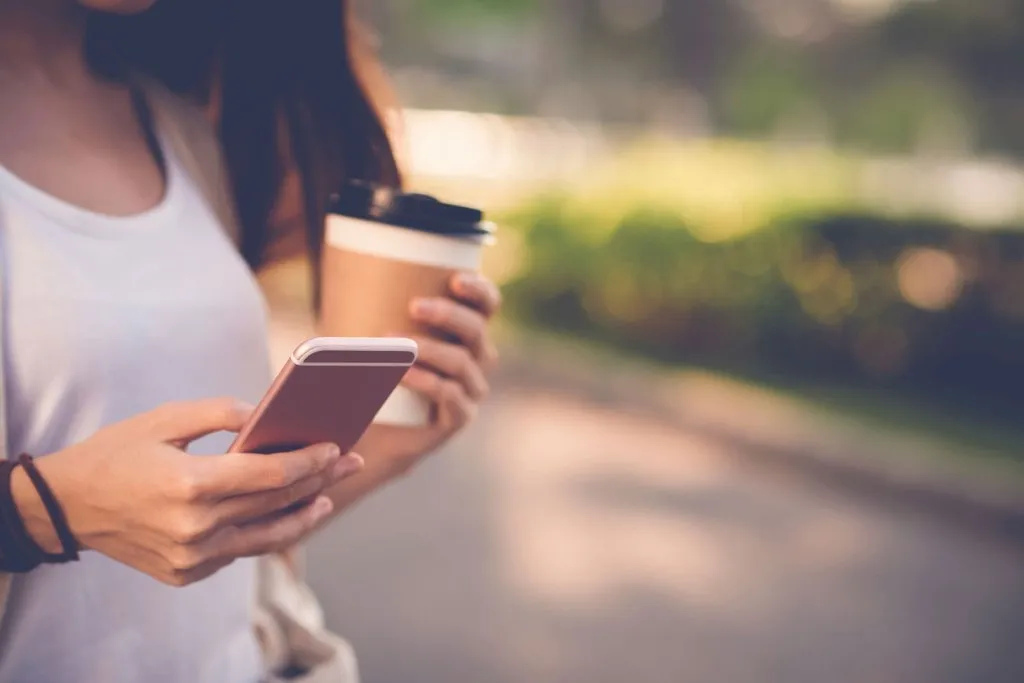 Instead, look for emojis next to the friend's name to see whether they're there. A happy face emoji indicates that they are engaged in a long conversation. Emojis with various signs, such as heart, fire, and others, demonstrate that snaps are shared daily. This might indicate that your boyfriend is cheating or you have a cheating girlfriend on Snapchat.
On the other hand, your partner surely has a close friend with whom they often exchange photos. According to Robert Weiss, CEO of Seeking Integrity, just because someone is in a relationship doesn't mean they can't have close friends or an occasional flirtation (find out if flirting is cheating) with someone other than their partner. It also doesn't indicate that you and your loved one have an issue.
However, if you want to know for sure if your wife or husband is cheating on Snapchat, you need to concentrate on certain indicators that would suggest that your partner is lying.
Some Hints That Your Partner Is Snapchat Cheating
Your partner is exchanging snaps with someone without informing you.
They spend most of their time on Snapchat.
Your girlfriend deleted the Snapchat icon from her phone's home screen.
You discovered some suspicious activity on their snap map.
They use ambiguous emojis to communicate with people you've never met.
You believe your partner is behaving covertly, yet when you check their phone, you do not find any cheating evidence.
8 Warning Signs Someone Is Cheating Through Snapchat
Snapchat infidelity is pretty common amongst couples. You can never reconstruct their conversation or snap history, because cheaters tend to be cautious and secretive. You can tell whether your boyfrind or girlfriend is cheating on Snapchat by looking for certain clues. Here are a few examples:
1) Your Partner Spending Most of the Time on Snapchat
According to the Pew Research Center, around 63% of Snapchat users utilize the app daily. In addition, 51% claim they use this chat app at least 2-3 times every day.
This is the most important indicator of all. If your partner spends most of their day on Snapchat, it's probably a sign of infidelity. If you have a Snapchat account, you might want to try and catch your partner cheating, even if it is micro-cheating.
2) Your Partner's Best Friend on Snapchat Is Not You
It used to be relatively simple to find someone's best friend on Snapchat. However, in the most recent versions of the app, it is quite difficult to spot. It will be quite simple for your partner to become close to someone other than you in this manner. Another thing to note is that, although you snap them frequently, there is no heart emoji next to your phone number.
3) They've Had a Long-Term Relationship with Someone You've Never Met
Yes, your partner may have been in a long-term relationship with someone else without your knowledge. If this occurs and they continue chatting on Snapchat, it is a clear indication of cheating.
4) They Don't Include You on Their Snapchat
When your boyfriend or girlfriend is on Snapchat and doesn't respond to your snaps, it's obvious that they're hiding something from you and that their account is being used to cheat.
5) Behind Closed Doors, You Can Hear Them Snapping Photos
When your partner is taking selfies in the bathroom or behind any closed door, it is a warning sign for your relationship. If you've observed it repeatedly, keep your eyes and ears open – you are about to catch them Snapchat-cheating.
6) They Frequently Laugh While Looking at Their Phones
Pay close attention if your love partner is basically living on this platform, and you notice that they are smiling a lot after seeing something they don't share with you. Also, if your partner is always viewing Snapchat and doesn't notice your presence, it's time to become alert and consider talking about infidelity and your marriage.
7) Recently, They Appear to Be Extremely Concerned with Their Appearance
Have you noticed that your partner is suddenly more concerned about their appearance, that they spend a lot of time getting dressed, and that they are picky about what to wear? This abrupt change is a strong indicator that your partner has become a Snapchat cheater.
8) The Spouse Has Become a Little More Scrappy
According to Snapchat cheating statistics (23% of users are cheaters), if your boyfriend or girlfriend gets scrappy, it means they're more interested in someone other than you. They don't like having you around when they're trying to establish their new personal life.
How to Catch Someone Cheating on Snapchat?
Snapchat cheating is pretty popular these days. According to a poll conducted by YouGov/The Economist, one out of every five Americans admits to being unfaithful in a committed relationship. 41% of men and 28% of women confess to having considered cheating on their spouse at least once. There are a few key areas where you may catch your partner on Snapchat cheating.
Collect Substantial Snapchat Cheating Evidence
Snapchat has a feature that allows you to view what your friends are up to. You can use it to find out if a guy is cheating on his girlfriend by regularly sending messages to someone other than her. This might also be beneficial in case of a girlfriend cheating on Snapchat. You may not be able to determine the exact method your partner is using to cheat on you, but you may find a lead or clue somewhere. The following are some obvious evidence of cheating on Snapchat:
They spend a significant amount of time on Snapchat every day.
They don't want to reveal to you their Snapchat conversations or activity.
They always keep track of their phone's whereabouts.
They don't seem to care about you.
If you insist on seeing the phone, they become angry.
They arrange a surprise present or party for you, which they would not typically do.
They are unusually attentive to their appearance and looks.
Observe Snap Map Activities
When Snapchat users open their app, the Snap map displays their current position. Snap Map may be used to find out where your partner is. However, if a Snapchat user is cheating and does not want you to know where they are, they may turn it off to prevent it from disclosing their location.
Monitor Their Snapchat Friends
If you have a Snapchat account, you can do it quickly by looking at the emojis displayed next to their contact. If a gold heart emoji appears with any of your partner's contacts, it's reasonable to think that someone other than you is their closest friend.
Use an iOS or Android Snapchat Spy App
You may utilize a Snapchat spy tool to catch them red-handed after acquiring confirmation regarding Snapchat cheating with certain indications and evidence. To spy on your girlfriend or boyfriend, a plethora of spy programs are accessible on the market. SpyBubble is one of the best spying apps out there.
About SpyBubble
In the spy industry, it is the most often used spying app. You may use this program to monitor someone's Snapchat account directly. It's incredibly easy to use. Working with SpyBubble does not need any specific technical knowledge. One thing to consider before purchasing the subscription is the type of device you'll be spying on. If you're spying on someone who uses an Android smartphone, you should go with the Android version; if the person you're spying on uses an iPhone, your spying software will be customized for iOS. If you have any problems while using it, customer service is accessible 24/7 to assist you.
How to Use SpyBubble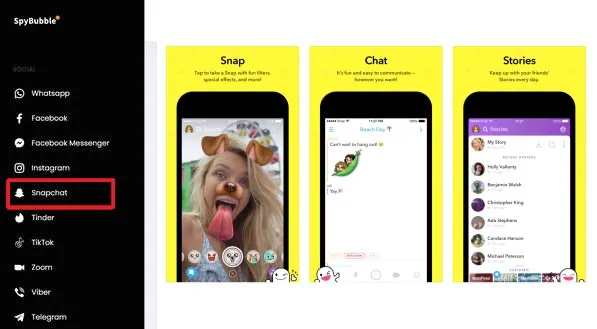 The instructions for using SpyBubble on both Android and iPhone are as follows:
For Android (without root)
All versions of Android are supported by SpyBubble.
Register on the site and choose a subscription.
Download the SpyBubble client sent to you by email on the target device and wait a few moments for it to finish installing.
Log in to your SpyBubble account on your device when the installation is complete.
Once you've logged into your account, a dashboard will appear, from which you can keep track of the target device's Snapchat activities.
For iPhone
This spying app is compatible with all iOS versions 4.4+. SpyBubble requires no physical installation and does not require a jailbreak. To utilize the app on the target device, you only need target iCloud credentials. After logging into your SpyBubble account with these credentials, you can begin tracking the target device and cheating girlfriend's Snapchat actions. All of this monitoring may be done using the SpyBubble dashboard.
How to Deal with It If I Caught My Partner Doing Snapchat Cheating
So, what's the deal? If you catch your partner on this platform cheating on you, instead of feeling awkward, you should do the following things since only you can manage this circumstance politely and maturely.
Get Ready
Prepare some proof, such as screenshots of their snaps, conversations, and texts obtained through a spy program. So, if your spouse refuses to admit your allegations, you may provide them with all of this proof.
Confront Them
One of the best methods to figure out why your partner is a Snapchat cheater is to ask a straightforward question. Make it tough for them to hide anything from you by digging deeply. Inquire about every aspect to know about your partner's intentions or the cause of their infidelity.
Do Not Take Instant Decision
This is not the time to make an impulsive decision. Wait for them to respond to your questions. You're not supposed to break up with your partner so swiftly. If possible, get assistance from a counselor or close friends before making a decision.
Install a Spy App on Your Partner's Phone
Everything may be resolved following a confrontation or the involvement of a counselor. However, to guarantee that it never happens again, you may consider installing a spy app on your partner's phone, which will allow you to access every piece of information, such as calls, texts, chats, and snaps.
Also read "How to Know If Your Wife/Husband Is Cheating on You on Facebook"
Snapchat Cheating Captions
The best captions on Snapchat concerning cheating in relationships:
A genuine cheater would never confess.
I don't cheat; I just enjoy changing my mind.
You were never there for me, so I cheated on you.
You aren't worth the effort or the time.
Not what it seems, in fact!
Why not just continue being friends?
I'm sorry I cheated on you, but I'm not sorry I got caught.
Although I'm sorry, I can't be held responsible for our broken love.
I sincerely hope that this is my last betrayal of you.
What if we are deceiving yet are unaware of it?
It appears that someone has been deceiving and lying to me for the entire time!
I want to be with someone who gets me; I'm not cheating on you.
If he is unaware of what we are doing, it is not cheating.
Sorry, but I'm unable to stop lying to you.
We don't have a love story since the one we already have is tragically over.
It's the other person, not myself.
I'm so sorry I cheated on you, but not sorry enough to stop.
Please stay together; we can go through this together.
I apologise for the several occasions I cheated on you and lied about it.
FAQ
How to find out if your Bf or Gf is cheating on Snapchat in simple questions and answers:
Is it possible to catch someone on Snapchat cheating? 💁
Yes, you can catch your boyfriend, girlfriend, wife, or husband cheating on Snapchat. And you will no longer carry the title "cuckold". Little observations of their conduct will lead you to believe that your partner is engaging in some dubious Snapchat activity. With the spying app, you can keep track of every message.
How can you tell if someone has multiple Snapchat accounts? 🐻
You can't be certain that your partner does not have multiple Snapchat accounts. The only thing you can do is look up their name on Snapchat or inquire about their other accounts with their close friends. Another alternative is to get access to their phone, or find their secret phone.
Is it possible to spy on Snapchat for free? 😋
Many tracking applications are available on the market to keep a close eye on the target device's actions, including Snapchat activities. Many spying apps come with a free trial edition. Once you're satisfied with the app's basic functions, you may upgrade to a premium membership that includes all of the app's features.
Is it possible for me to view my wife's Snapchat history? 👰‍♀️
Snapchat's most popular feature is that it does not save any history, whether it's a snap or a chat. So, using standard access to their app, you won't be able to see someone's Snapchat chat history. In that case, spy apps for Snapchat are the perfect solution to your problem. An app like Spybubble, can track all the information on your wife's phone, as well as save all the chats and snaps.
What can I do if I want to know who my girlfriend is talking with on Snapchat? 👧
You can quickly find out whether your girlfriend is doing something fishy with the use of a special Snapchat tracking tool. It's easy to do if you have a phone and a thirst for justice.
What is the best way to find out who your boyfriend is snapchatting with? 📱
There are a few subtle signs you should pay close attention to see if your boyfriend is snapchatting at someone. Spending a lot of time on Snapchat, ignoring your snaps, using special emojis next to people who aren't your friends, hiding messages and snaps from you, and so on are just a few of them. Use any catch a cheater app to track your boyfriend's phone if you wish to confirm or dispel these signs.
Do cheaters use Snapchat exclusively? 💕
Because anything communicated using Snapchat is deleted in a matter of seconds, it is handy and safe to use as a cheat app. As a result, it is quite popular among male and female cheaters.
What is the best way to catch someone cheating on Snapchat?😬🌟
The best way to capture someone cheating on Snapchat is to use a spying app for Android or iOS. Installing a spy app on the target device allows you to remotely watch all of the activity on their phone and, if you have enough evidence, capture the cheater.
How can you tell if your boyfriend is cheating on Snapchat?🤵
You can figure out whether he's cheating by using some methods. The first method is observation, while the second is the use of a monitoring app. You can acquire a sense of them cheating through observation, but with the spy software, you will be able to directly track their activity and obtain proof.